August 14, 2013: The Hat!! My Rolled Brim Hat!
Hi everyone,
I am enjoying a nice hat pattern which I found on the internet recently called the
Rolled Brim Hat
. I found this at the
Thrifty Fun
website and I just love the look and fit of this hat.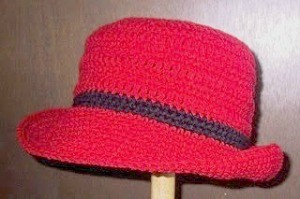 For the first two hats I made, the colors are worsted weight black and light pink yarn. My first hat (and yes, that is my crochet hook hanging from the partially-finished brim) LOL
My second roll brim hat! Colors are worsted weight black and light pink yarn:
This black hat is simply a reversal of the colors. With my first hat, I used a very light pink color and some black yarn for the band.
I decided to add another row of reverse single crochet stitches to the brim for the last round, on the black and pink hats. I gives it a nice finished look:
I rummaged around my stash and I came across a big ball of very VERY fuzzy and rather stiff yarn. I have no idea what brand it is or where I got it from;
it is one if those mystery balls of yarn in my stash acquired years ago.
It made a great-looking hat! I still have some left but I'm not sure if I have enough for another hat.
I re-wound this fuzzy yarn into a pull skein on my yarn winder and with a size F hook I was able to make this one. The band is a little bit of black worsted weight yarn.
My work with gauges before starting on this pattern. I wanted to achieve 14 dc stitches = 4 inches or 10 centimeters.

I used some worsted weight yarn and 3 crochet hooks for this.
-- The bottom swatch was made with a size I / 5.50 mm hook and was too big (14 dc=4.5 in).

-- For the middle swatch, I used a size G / 4.0mm hook and it was too small (14 dc=3.5 in).

-- For the top swatch, I used a size H / 5.0mm hook and it was just right! (14 dc=4 in).
I also found a nice sort of "tweed" looking colored yarn which I think will work well for a hat.
Here I have the brim rolled up in the front for a different look.
I
started on a purple one with a gold contrasting color. Normally I would not mix two different fibers together, but for this I think it would be okay. The purple is some 4/2 cotton yarn from a huge cone I bought off ebay. I am using 2 strands of this held together.
The gold is from Caron Victorian Christmas colors a few years ago; only one strand of this.
Both of these have gold filament running through the yarns.
Thought I would try out this purple yarn and see what I could do with it. It's a limp yarn compared to worsted weight acrylic.
I also made another hat earlier this year back in January 2013 and I have this on my Pinterest board at:
Crochet Hats, Tams, Berets, Caps, Headwear, Ya'll!
Here is that picture of the the slouch beanie I made. It is the Urban Jungle Crocheted Slouchy Beanie by Vickie Howell at:
http://www.ravelry.com/patterns/library/urban-jungle-crocheted-slouchy-beanie
I am new to making crochet hats and I find that I really like it! It is a great way to use up smaller leftover yarn! :)
Update: Friday, August 16, 2013:
I am frogging (you know...rip it, rip it!), the too-large pink hat and I am re-crocheting it in the small size on the pattern. My head measures exactly 23 inches (58.42 cm) and the ladies large size hat in the pattern is too big; it feels like it is going to fall off).

Please feel free to leave me a comment below and I always enjoy hearing from you and reading your comments!
Happy Crocheting and Good Day!